Whether you want to build eCommerce store site to sell your own products, dropshipping or promoting affiliate products.. you need a stunning design WordPress theme.
Because in the online selling market, good website design matters!
If you browse the Internet looking for a great WP store theme, then you will many options, far too many actually.
However, pick wisely. Because if you pick WP theme from bad vendors then good luck trying to get help or support for your store site projects.
And that's why I've made this list of 5 best WooCommerce WP theme today. All the product listed below are constantly updated by the vendor, and rated as five stars from thousands of customers.
1.) Shopkeeper WooCommerce WP Theme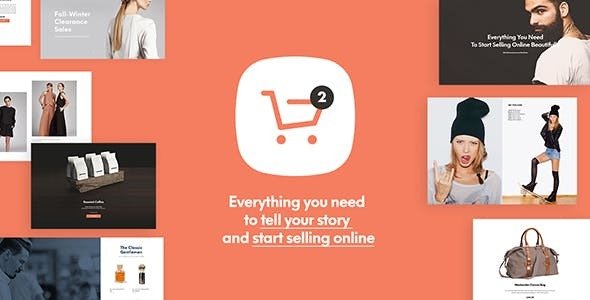 Built with the eCommerce functionality in mind, Shopkeeper is a fully responsive eCommerce WordPress Theme for WooCommerce with a great design and extensive functionality.
This WP theme has powered over 31.000+ online stores, so you really can't go wrong when using this gorgeous WP store theme.
2.) XStore WooCommerce WP Theme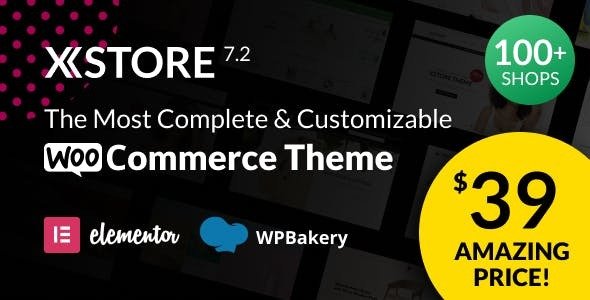 XStore is intuitive and the most customizable WooCommerce Theme & WordPress for eCommerce carefully developed and includes that set of pages, tools and settings that will help you create a professional looking WooCommerce shop.
The main features of this WP theme is it bring you a large and complete template library, with over 350+ pre-defined layout sections to choose.
So you can build 100+ over WP store sites and they will all have different designs eventhough they use the same WP theme!
3.) Electro Store WP Theme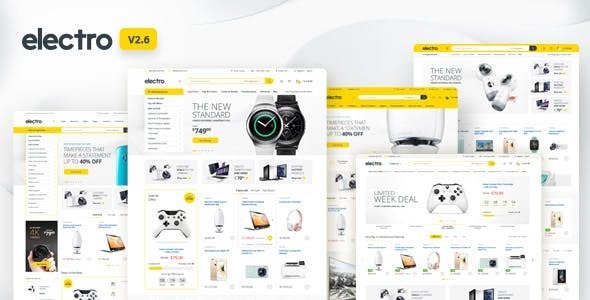 Electro is a robust and flexible WordPress Electronics Store WooCommerce theme to help you make the most out of using WooCommerce to power your online store.
The design is well suited for Electronics Store, vendor based marketplaces, affiliate websites. It is built and comes bundled with most of the advanced features available in most popular eCommerce websites like Amazon, Flipkart, Snapdeal, Walmart, Alibaba, Aliexpress, etc.
So if you are an amazon affiliate or want a multi-vendor marketplace for your niche market or a store owner, this theme is for you.
4.) Bazar Shop WooCommerce WP Theme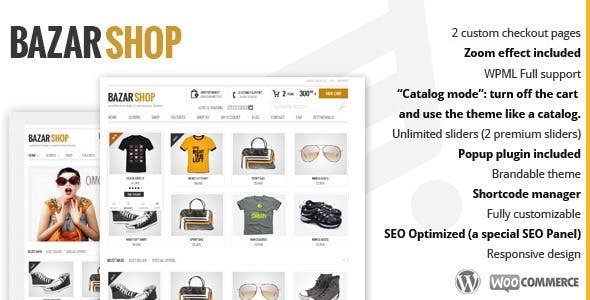 Bazar is a fresh and creative theme that utilises the powerful Woo Commerce plugin to create a very versatile WordPress powered shop, with unlimited layout options and a lot of unbelievable features.
This theme is one of only few store theme that has built-in SEO panel to increase your store sites presents in search engines.
Bazar also comes with 9 portfolio layouts, 8 blog layouts, Service page, Sitemap page and more!
5.) Martfury WP Marketplace Theme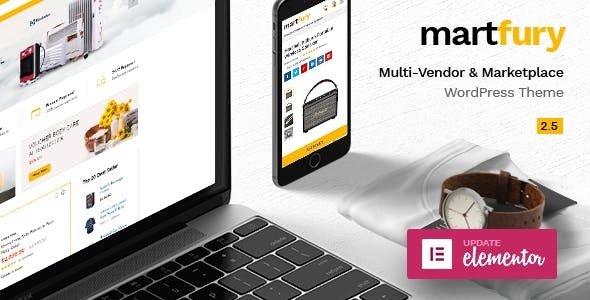 If you want to scale up your store sites more into a marketplace style sites, then this MartFury should be your first choice.
Martfury is a modern and flexible WooCommerce Marketplace WordPress theme. This theme is suited for multi vendor marketplace, electronics store, furnitures store, clothings store, hitech store and accessories store.
With the theme, you can create your own marketplace and allow vendors to sell just like Amazon, Envato, eBay.